WE PREDICT.
WE ACT. WE PLAN.
Colian Logistic is more than a decade of active presence on the logistics services market, a team of more than two hundred trusted and committed specialists, a fleet consisting of four hundred and fifty delivery trucks, 5 million kilometres driven and as much as 60,000 m2 of warehouse space.
When Colian Holding S.A. established Colian Logistic on 1 July 2009, it was immediately clear that our goal would be to become one of the leading service providers in the transport market. Every day we work for this success! Continuous development and maintaining the highest quality resulted in the fact that at present we have as many as 11 subsidiaries with a distribution centre in Kostrzyn Wielkopolski. Our locations are in Kalisz, Nowa Wieś Wrocławska, Lublin, Bydgoszcz, Stryków, Katowice, Gdańsk, Pruszków, Wykroty and Robakowo.

The experience and competence of Colian Logistic is confirmed by a number of certificates and licenses necessary in the transport and forwarding industry, as well as a list of contractors cooperating with us. In our work we focus on safety and corporate social responsibility. We have the necessary insurance, and each action is thoroughly analysed in terms of its environmental impact.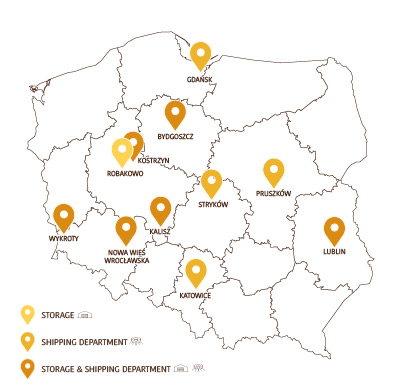 PEOPLE ARE
THE MOST VALUABLE
Starting with a request for quotation, through needs assessment, order processing, to payment: Colian Logistic's team helps you process your orders faster, cheaper, more secure and easier, so you can stay focused on your core business.
We take logistics extremely seriously, trying to meet customer needs at every stage, from the choice of transport, through storage, to additional customer service. The evidence of the high quality of our services is the constantly growing number of satisfied clients, as well as a number of awards, prizes and certificates received over the years.